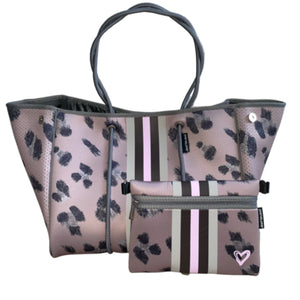 Large Neoprene Tote Bag and Wristlet Cheetah/Leopard - Kitimat
The large neoprene (preneLOVE) tote features matching side panels, a premium 4mm neoprene fabric that is exceptionally durable and lightweight.  It also has a high performance sailing rope handle with reinforced metal eyelets and dual zipper pockets.  The tote also has a magnetic side and center snaps for a more compact look.  Best of all it is hand or machine-washable in cold water and mild detergent (avoid scrubbing).
The tote comes with a matching wristlet and a protective storage dust bag. 
Gray & pink cheetah/leopard with gray, white & pink stripes on both sides.
Dimensions:
Tote - 15"(W) x 12"(H) x 10"(D)
Wristlet - 9"(W) x 6"(H) x 0.5"(D)