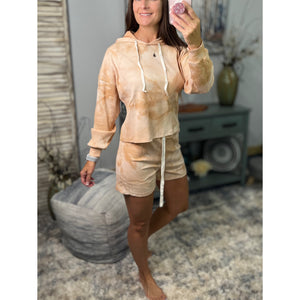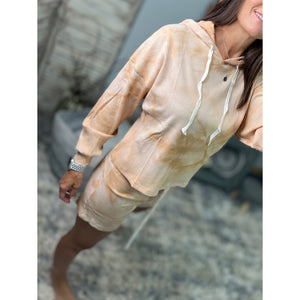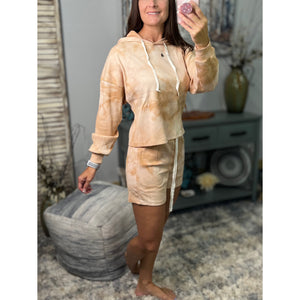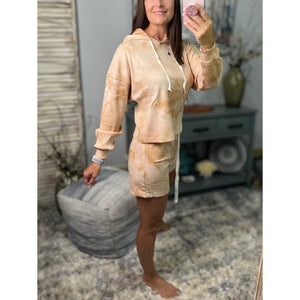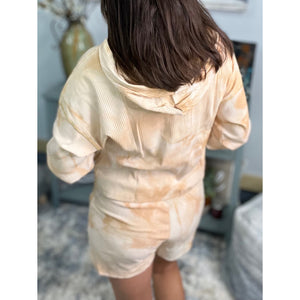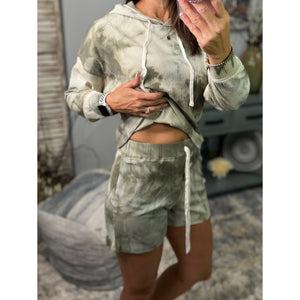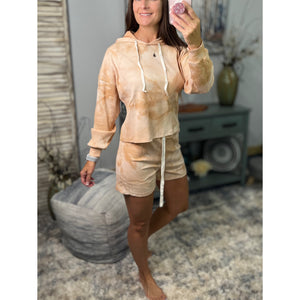 "Be The Light" Tie Dye Lounge Hoodie Drawstring Ribbed Long Sleeve Top & Shorts Set Peach
Super cute and cozy two piece tie dye, ribbed lounge set.  Elastic drawstring shorts.  Long sleeve with drop shoulder and drawstring hoodie. 
Peach - 65% Polyester/35% Cotton
Small, Medium and Large available.  Model is wearing a Small.

Top
Small - Bust - 23 inches, Length (shoulder to bottom) - 21 inches
Medium - Bust - 24 inches, Length (shoulder to bottom) - 21.5 inches
Large - Bust - 25 inches, Length (shoulder to bottom) - 22 inches
X-Large - Bust - 26 inches, Length (shoulder to bottom) - 22 inches
 Bottom

Small - Waist - 13 inches, Length - 15 inches, Inseam - 3.5 inches, Rise - 12
Medium - Waist - 14 inches, Length - 15 inches, Inseam - 3.5 inches, Rise - 12
Large - Waist - 15 inches, Length - 15.5 inches, Inseam - 3.5 inches, Rise - 12
X-Large - Waist - 16 inches, Length - 15.5 inches, Inseam - 3.5 inches, Rise - 12